Filipino boxing champion Manny Pacquiao and challenger Juan Manuel Marquez both made the 144-lb catch weight on the eve of their 12-round welterweight bout on Sunday (Manila time) at the MGM Grand in Las Vegas.
Pacquiao, who will defend his World Boxing Organization (WBO) 147-lb title, tipped the scales at 143lbs while Marquez was a pound lighter at 142.
The official weigh-in was held Friday in front of 7,000 screaming fans at the MGM's Grand Garden Arena.
A catch weight of 144lbs has been set for the 12-round bout, the third installment of one of boxing's most intriguing rivalries.
Both the champion and challenger declared themselves ready for the match that comes three years after their epic 2008 rematch won by Pacquiao behind a razor-thin 12-round split decision.
"I'm going to rest and prepare for the battle tomorrow (Sunday)," said Pacquiao, owner of a 53-3-2 record, with 38 knockouts and defending his welterweight belt for the third time.
"I am ready for this fight, which is the most important in my career," Marquez (53-5-1, 39 KOs) said. "I need to win every round clearly."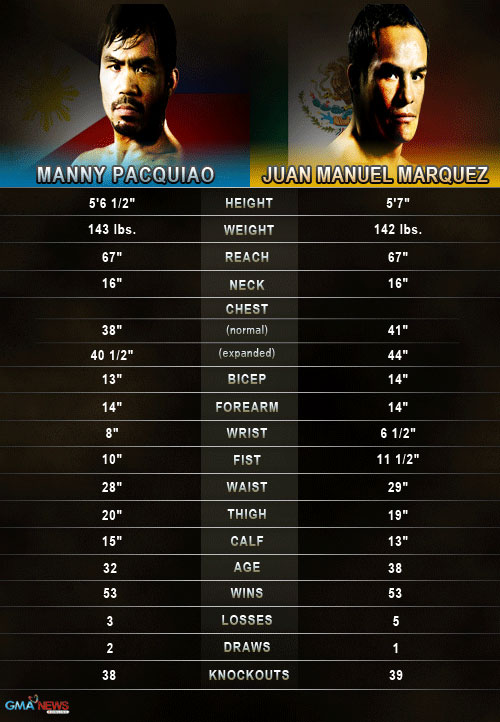 HBO Sports aired live the official weigh-in, a step that's unprecedented in the history of boxing.
"These are two great warriors who represent their country well," said Bob Arum, the Top Rank Promotions chairman. "I promise that you'll see a fight for the ages."
A separate report on SB Nation said Pacquiao "looked very muscular as usual," debunking reports he was underweight the night before.
Manny Pacquiao vs. Juan Manuel Marquez 3 Official Weigh-in
"He did not look drained one bit despite being under the 144 pound limit,"
it said.
Both Pacquiao and Marquez looked in great shape, "and hopefully that translates into a great fight," it added.
Sunday's event has been billed as the bout that would finally decide who between the two is the better fighter.
Both fighters had extensively promoted the match worldwide.
A separate article on Bad Left Hook quoted Pacquiao's strength and conditioning coach Alex Ariza as saying the champ is in prime shape for the
weigh-in.
A day into the title match, Pacquiao, 32, remains a heavy 9-1 pick to win over Marquez.
Both fighters are guaranteed to receive their biggest paycheck yet. Pacquiao, universally recognized as the world's top pound-for-pound fighter today, has a purse of $22 million, while $5 million goes to Marquez.
Pacquiao and Marquez first
fought
to a controversial draw in 2004 in a match that saw the Filipino ring icon decked the durable Mexican three times in a blazing opening round.